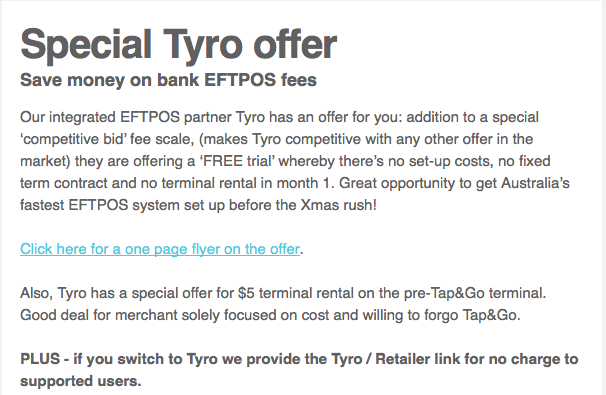 Tower Systems POS software users have been offered several options from our eftpos partner Tyro including a low cost pre tap and go $5 terminal. This non exclusive offer has been put to the Tower community along with other offers to help Tower retailers cut eftpos processing costs.
We've emailed all our customers with details of the offer.
UPDATE: POS Solutions has said of our offer: "have only just got it, something POS Solutions clients have had for quite awhile. What they have done is linked into our offer. Every tower user who takes up this offer should thank POS Solutions." This is not true. Our offer is our offer. It's part of a long term relationship with Tyro pitching a series of offers. What we have offered has no connection whatsoever to anything POS has done. It's a pity they have made this false and misleading claim.