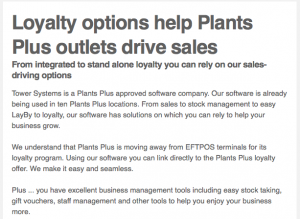 With the Plants Plus loyalty program counter-top terminals being withdrawn, Tower Systems is helping more Plants Plus members run the Plants Plus loyalty program thanks to integration in our garden centre software specifically to serve the needs of Plants Plus.
Our integration meets with Plants Plus loyalty program standards, enabling shoppers to shop at any store with our software and accrue and redeem points according to the rules of the program.
Our integration not only serves Plants Plus stores, Plants Plus itself but also the needs of their corporate loyalty program provider – the largest in Australia.
Networking retail businesses under the Plants Plus banner in this way is another point of difference for the Tower Systems garden centre software. It is one of a range of loyalty offers we have within our software.