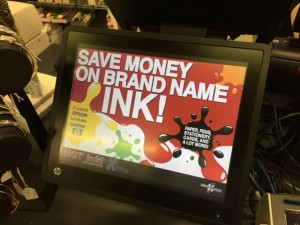 This photo shows how one newsagency is using the smart customer display through our POS software by having ads play between customers and then the screen share the ad with details of purchases being scanned.
Being able to manage the serving of ads to customers at the counter is an important feature of our software, something that has been enhanced as hardware has evolved. The latest HP all in one registers are particularly good to work with thanks to their small footprint and smart customer display technology.
Small business owners love that thanks to the HP technology and our software they can offer a customer-facting IT solution that is competitive with bigger businesses.