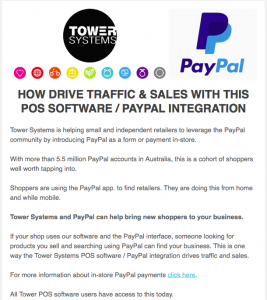 POS software company Tower Systems is helping small business retailers with its brilliant PayPal integration.
Using this first to market opportunity, retailers can expect to find new shoppers thanks to the help of PayPal in unlocking access to more than 5.5 million PayPal users in Australia.
This is an excellent example of how a POS software company can help retailers grow their businesses by attracting new and valuable shoppers.
Tower Systems is grateful to PayPal for selecting them as a launch partner.