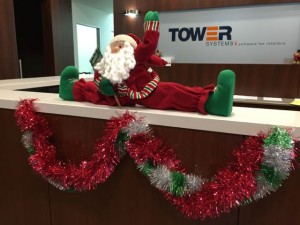 It's not all tech talk and business this time of the year in the head office of our POS software company. Being Christmas time, we enjoy more Christmas cheer at lunchtime and during breaks thanks to more diverse food choices including tasty mince pies.
The office is decorated too – bringing some festive colour into our workplace.
The photo shows some of the decorations at our reception desk.
So while we may be all business on the phone during calls, we're chilling out and enjoying the Christmas season in between. We draw the line at singing Christmas carols though – no one wants to hear that.