I am back from a quick trip to the US – New York, Wisconsin (several small towns and Los Angeles).
It was fascinating to see the total embrace of Halloween, in all retail sectors: jewellers, garden centres, bike shops, pet shops, toy shops, homewares shops, fabric shops, gift shops, landscape businesses, bookshops, fashion stores.
While I have seen Halloween in the US plenty of times before, this time I paid attention to the range of retail businesses engaged.
Retailers in every category embrace Halloween as an opportunity for fun. They also use it as an opportunity for in-store events to reconnect with the local community.
What I saw was much more than candy and trick or treating … it was a seasonal embrace with fun at the heart. There were events, sales, photo opportunities and plenty more. Most were very local, and engaging.
Many retailers use it as an opportunity too ease into Christmas with Halloween prep starting in early September.
I like the idea of Halloween right after Father's Day and as something prior to Christmas being put up in store. While we have done Halloween in our shops previously, in 2024 I think we will take a more US local retail approach and create something quite different for here.
I mention it today because events in-store, in any type of retail business, are vital to helping to be noticed, and attract new shoppers, and new shoppers are vital to all of us in retail.
This photo is from a bike shop / coffee shop in Lake Geneva Wisconsin. I saw people crouch down for a photo. Simple. Effective. Engaging.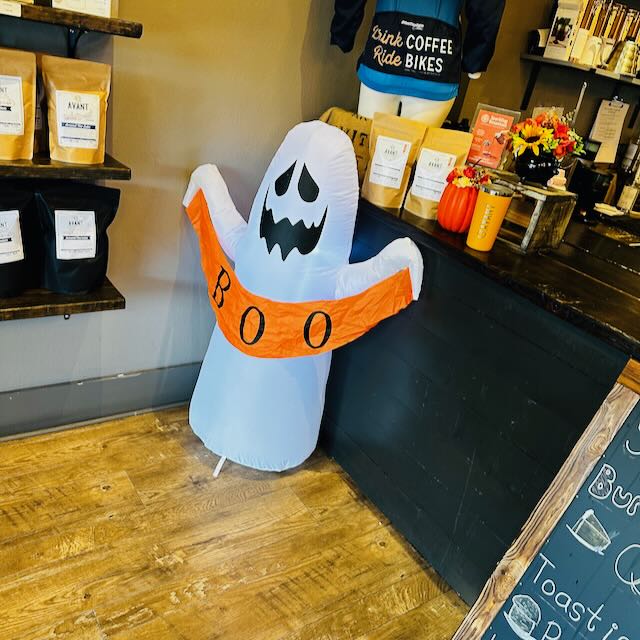 There are so many opportunities local retailers can embrace with Halloween beyond what we have seen as common locally.
Bike shops, jewellers, garden centres, toy shops, pet shops, bookshops, gift shops, homewares shops, newsagents and even farm supply businesses all have opportunities in the Halloween space and I saw plenty of examples in the US recently.
In our POS software it's a season we can help you track, too.
I am grateful for what I got to see. It was heaps fun.
Mark Fletcher
CEO. Tower Systems
mark@towersystems.com.au 0418 321 338
PS. Retail is personal and Halloween leans into this opportunity.