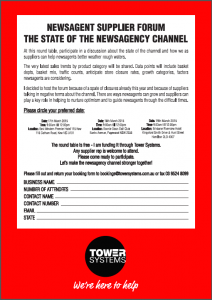 Tower Systems is funding an opportunity for newsagent suppliers to meet in three states to discuss and work on the health of the newsagency channel and explore how they can help newsagents grow their businesses.
The Newsagent Supplier Forum has been in development for some months and is open to all suppliers to participate. Our hospitality extends to our software company competitors – we want the sessions to as broadly based as possible.
Newsagents think they are doing it tough and while some are for others it is a mindset thing. We hope the focus can help navigate a path ahead which benefits newsagents, their employees and newsagent suppliers.
Funding these sessions is another way we can give back to our customers.