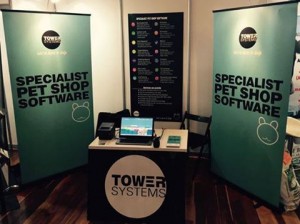 The Tower Systems pet shop software has benefited from being the only pet shop software on show at an exclusive pet retailer event.
This is the first of several such exclusive events for 2015 – where Tower Systems has been invited to be the only pet shop software supplier to participate and speak with delegates about how technology can help independent and local pet shops compete and grow.
Tower Systems is grateful to the support of pet retailers who endorse us and through this who help us serve more businesses with terrific software and backup services.
Using our pet shop software, pet retailers can expect to transact business more efficiently and accurately, reduce wastage of inventory and bring shoppers back more often – among other benefits.
Developed with pet retailers large and small and connected with plenty of suppliers, the Tower pet shop software delivers competitively advantageous benefits.