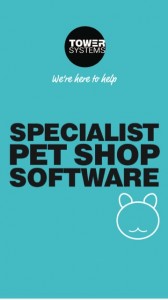 The Tower Systems Specialist Pet Shop Software grows in popularity among pet retailers large and small with new businesses signing up already this financial year.
The latest growth in numbers is being driven by the work Tower Systems has done to connect with pet shop suppliers for the provision of electronic invoices and other EDI related benefits.
Tower Systems supplies more independent pet shops with specialist pet shop software than any other software company.
Pet retailers use our software to manage sales and inventory and to market their products and services to drive return visits. They also use the software to underscore their local points of difference – the software helps easily achieve this.