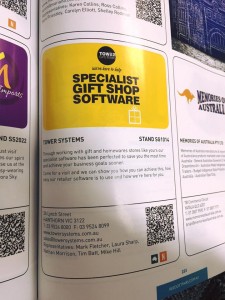 POS software company Tower Systems will be showing off its latest gift shop software at the Reed Melbourne Gift Fair in two weeks.
Our involvement is already being promoted in the thick catalogue promoting the fair – sent to all gift shops, suppliers and other retailers in the gift space.
We are grateful for the opportunity to participate in this fair again this year. We anticipate learning plenty as well as making connections with many possible new customers as we show off what we do pitch the Tower AdvantageTM.
We are especially excited about some surprises we have to share at this marquee event.