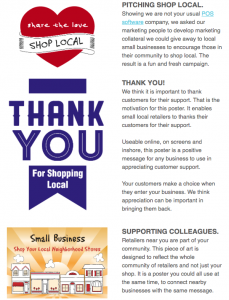 At Tower Systems we live our support for small business retailers every day from practical help we provide through our POS software to the business management assistance we provide through a host of free resources any small business retailer can access.
The new free small business retail marketing collateral we sent out last week has been a hit with businesses contacting us appreciative of these local targeted resources they can use to promote their businesses.
What does this have to do with POS software? Plenty we say as our POS software helps make retail businesses more efficient and smarter. The marketing resources help them spread their message wider than they otherwise might. The two work hand in hand.
We are grateful for the opportunity to serve small business retailers in a variety of ways.