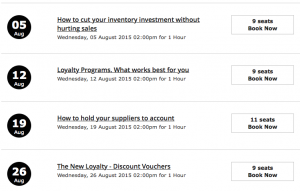 Tower Systems has launched free POS software training opportunities for small business retailers through to August 26.
This new series of fresh training focuses on business outcomes for retailers using the Tower software.
Covering the why, this training helps retailers move beyond traditional use of POS software and into greater value.
The training is available for free to any Tower Systems customer. It can be undertaken from anywhere with broadband access and a phone. We cover the cost of the call for audio access anywhere in the world.