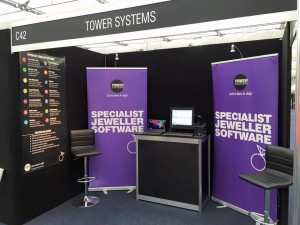 Tower Systems is thrilled for the opportunity to demonstrate its latest Jeweller management software at the Sydney International Jewellery Fair that starts today at Glebe Island.
Running for three days, this fair is the preeminent jeweller trade show in Australia.
Serving more than 300 jewellers already, Tower Systems is market leader in numbers. Thanks to continuous development and guidance from its customers, Tower will today and for the next three days show technical leadership with new facilities released including cloud based told that will help in Jeweller business management.
The photo shows our trade show stand – already setup and ready for the show opening at 9:30am today. The stand itself speaks to the professionalism and consistency we bring to our service of jewellers.
Our work with jewellers in developing our specialist jeweller software helps our other marketplaces as they do jewellers. Trade shows are important as they providing us opportunities to expand our knowledge as well as make new friends.