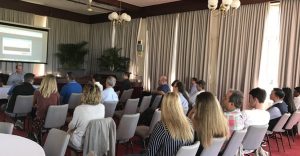 We are grateful for the opportunity to meet with many small business retailers around Australia over the last two weeks for our POS software e-commerce workshops.
The support for the sessions has been terrific as has been the discussion.
We demonstrated how our POS software links seamlessly to Shopify and Magento as well as other platforms. We also showed live how to create a Shopify site – empowering small business retailers to have more control over their online presence.
Providing a stable in-store platform from which to populate a website, the Tower Systems software can play a key role in helping small retailers get online in a cost effective way. This enhances the value and relevance of their POS software investment.
By doing all of this in-house from Tower we are not bouncing our customers to an external business that may not understand our customers as such as we do.
The free workshops are part of our commitment to delivering continuous learning opportunities to our small business retail partners.
The photo was taken toward the end of our Sydney session last week.