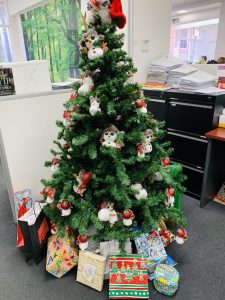 We did our Kris Kringle in our head office a couple of days ago with presents under, behind and deep in the tree. We play with a model that allows stealing of other's gifts, with cash and wine prizes thrown in got bonus fun.
It was another wonderful event this year, celebrating with our work family.
This, plus our party and our Christmas treats in the lunch room and some very special treats on each desk make Christmastime a wonderful time of the year at Tower.
And all through this, we serve our customers, helping them make good use of our POS software through the Christmas season … because that is what we are here for.