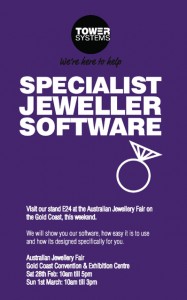 Tower Systems is showing its new jeweller software at the JAA conference on the Gold Coast this weekend.
What is special about this is that Tower Systems exciting innovation to share with jewellers, innovation jewellers can tap into without having to pay extraordinary consulting fees monthly or annually.
This is software hundreds of jewellers in Australia and New Zealand already love and use daily.
Thanks to the active support of our jeweller community, the software is enhanced and even more valuable and useful. If you are at the JAA conference this weekend, stop by and say hello. We'd love to see you.