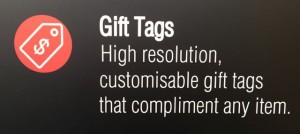 Thanks to flexible and smart gift tag facilities, the Tower Systems gift shop software helps retailers to present product tags of quality and professionalism which demonstrate a product care shoppers love. Developed in consultation with many retailers, these tags are loved.
The highly customisable tags offered through the Tower Systems software offer retailers more control and flexibility in how they represent what they sell.
A cheap price label or price tag can turn a shopper off a product whereas a professional and personal tag can make a product far more appealing.
This is another Tower AdvantageTM from Tower Systems.