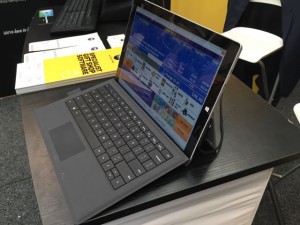 Our POS software loves the Microsoft Surface and retailers love our POS software on the Microsoft Surface. We have had the pair on show at five trade shows over the last two weeks covering gift shops, jewellers, toy retailers, pet shops and newsagents.
Retailers are choosing the Microsoft Surface for use on the shop floor, in a warehouse, at trade shows and from home. It's portable, slim yet fully functional. It is an ideal solution for many business situations.
Having it at the various trade shows has enabled us to show off what we can do with the software beyond the traditional counter top register and how we can help retailers in a variety of mobile situations.
Flexibility is key to good POS software and Tower Systems has been demonstrating this at many events in recent weeks.