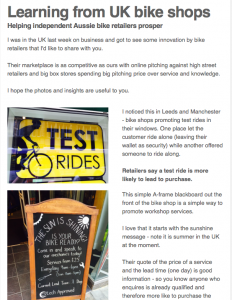 We are proud to have shared a special report of insights from several UK bike shops with Australian bike retailers.
The insights have been well received.
Our report covered marketing, maintenance and community service aspects of a range of different bike retailers in Leeds and Manchester – sharing photos and information that could be put to practical use by bike retailers in Australia.
The report demonstrates a support for the bike retail channel that is unique to Tower Systems – the company behind excellent bike shop software.
We're here to help.