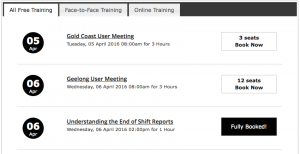 Tower Systems is proud to offer free and live training opportunities for users of its POS software this week. We have two local user meetings, in Geelong and the Gold Coast and online. The two user meetings are the latest in our series of capital city and major regional centre meetings – face to face with our customers, providing free training and business development strategy.
The online session on End of Shift Reports is fully booked. We are running this session again in the coming weeks.
In addition to the live training opportunities, our customers continue to have access to an extraordinary library of video based training and text based training – making POS software training easy to access from anywhere and at any time.