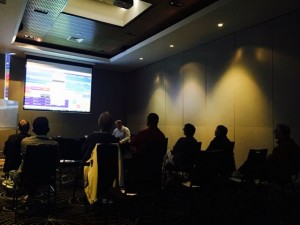 We met with some of our Geelong region POS software users yesterday at the Mercure hotel over coffee, tea, muffins and quiche. It was a good business building discussion about our software and, more important, about business generally and opportunities for embracing change in a period of rapid and comprehensive retail change.
This was another session from which we learnt plenty and renewed business friendships.
We are grateful to our customers for their support.
Anyone can announce user meetings. It is another thing entirely to run them, share photos and other information confirming the meetings actually happened. Our blog posts show us living to the truth of our words. We are proud to do this.
Footnote: the photo is dark as the room was set to dark to make reading the screen easier.