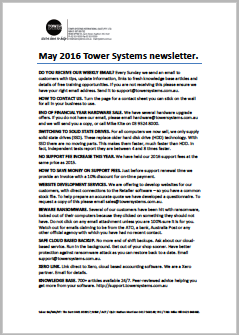 Here at Tower Systems we think too many POS software companies have distanced themselves from their customers.
We stay close.
Not only do we offer easy communication via email, online, by voice and face to face, we have a snail mail newsletter that offers tips and advice – delivered the old fashioned way so the information can be shared with all users of the software in the business.
The image shows one of the pages of our May newsletter put i the mail this week.
Communicating with customers by mail demonstrates our care of service for those not keen for electronic communications.