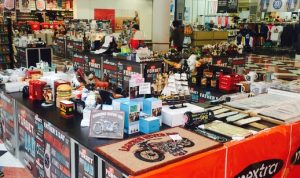 Tower Systems is thrilled to be helping retailers around Australia leverage the Father';s Day opportunity with outpost mode enabling easy selling by retailers away from their usual retail location.
The photo shows one large outpost where our software plays a key role helping the newsagency / gift shop leverage the most from the opportunity.
Using outpost mode, retailers using our smart POS software are able to transact away from the business yet maintain total control over inventory, customers and all other key business data.
In addition to providing excellent outpost facilities in its POS software, Tower Systems backs this up with personal outpost assistance, user training and even new casual employee training so they know how to use the software with certainty.
The total outpost package from Tower Systems helps small business specialty retailers to leverage the most from the outpost opportunity.
Father's Day is an excellent example of the value of outpost for retailers. The data we cultivate helps retailers to plan for more successful outposts.
This is another example of the Tower AdvantageTM for our small business retail customers.