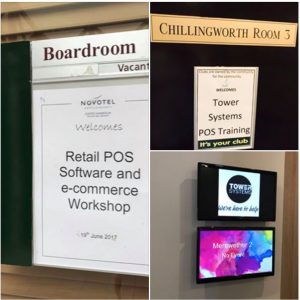 We are grateful to our customers and prospective customers who attended regional face to face small business POS software training and user meetings in New South Wales this week.
As we criss-crossed the north of New South Wales by plane and car we covered plenty of ground and met with plenty of small business people, from different specialty retail sectors.
Every encounter in our sessions and after in private Q&A added to our knowledge of small business retail and provided us an opportunity to preach Tower.
100% committed to only selling to small business retailers, we demonstrated through the sessions a commitment to transparency, welcoming customers and prospects to one session in each town. It was terrific hearing the blend of questions and sharing solutions that are well covered in our software today.
It is hard work putting together regional in-person user meetings like these. And expensive. These are reasons most POS software companies do not do it. That we do run these sessions is a genuine differentiator for Tower Systems. Plus, for those unable to attend, we host weekly online workshops, without fail.
Next week, we hit top far north Queensland with four sessions. We are looking forward to learning more and sharing more with small business retailers from a range of channels.