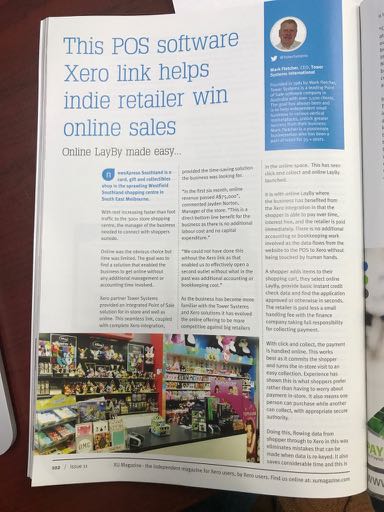 Tower Systems features in the latest issue of Xu magazine, the international magazine for Xero users and consultants and the wider Xero community.
The article resulted from kudos for our work in the POS software / Xero integrated space for many small business retailers. Our work helps retailers cut the time spent on entry of data as it eliminates steps in the process. This improves accuracy and costs of the business.
We are grateful to our many POS software / Xero customers for their support and encouragement on the continued evolution of our direct to Xero interface.
We are also grateful to the folks at Xero for their advice and counsel.
The article, which has just been published, is timely as it leads into the Xero Xerocon conference in Melbourne next month, where Tower Systems will feature its latest POS software.