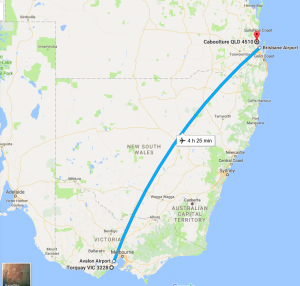 Tower Systems is thrilled to be helping small business retailers win valuable online sales through its suite of websites across multiple retail categories.
The image shows how far one package purchased through one of our our POS software integrated websites travelled this week. Thanks to site design and marketing by us, the Queensland based business found a valuable new shopper in Victoria, delivering revenue from this sale and establishing a relationship that is certain to benefit in the long term.
Connecting local small business shops with customers located on the other side of the country is helping these local town retailers find new shoppers.
Every day we are seeing excellent sales processed through the sites, valuable sales … and they are growing.
There are multiple layers to this success: the websites we created, the POS software integration enabling genuinely live stock on hand data and the guidance through sales processing to help retailers make sure they leverage the opportunity.
Delivering e-commerce revenue to small business retailers without them needing to have their own websites is an achievement of which we are most proud. We have been doing this for months across multiple website platforms and the result is terrific for our retail partners.
While there is no doubt of the value of a business being online for itself, there is even greater value for a business to be in an online community with like minded retailers, leveraging the group for each of the local stores. This is the unique delivery from Tower Systems.
We love helping small business retailers win new customers.