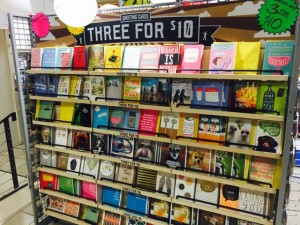 Retailers using the Tower Systems POS software can easily handle package or bundled offers, like the JB Hi Fi 3 for $10 offer they are running for greeting cards.
Using our smart small business POS software, retailers can run bundled deals like we see in JB Hi Fi with ease. Small and independent retailers can match the retail giant simply and easily. This is important as offers like this make price comparisons difficult.
In addition to bundled offers like this, the Tower software also handled multi buys where shoppers can purchase over time, reaching an award point where they get free product.
These facilities are in addition to myriad other discounting options including catalogues, loyalty facilities, discount vouchers and more.
All of these tools help small business retailers to be competitive in their offers, competitive against other local businesses, competitive against online and competitive against big businesses, like JB Hi Fi.
The beauty of offers like the JB Hi Fi offer is shoppers are drawn to the deal of Three cards for $10 and often times purchase one card at a higher margin for the retailer. Our software handles this, kicking in the Three for $10 pricing offer only when the shopper purchases the three cards. This counter management based on volume is easy and automatic – delivering good outcomes for the retailers and ensuing maximum margin.