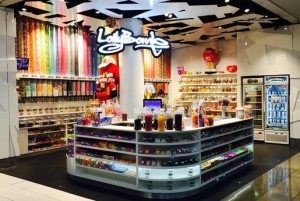 The seamless scale integration facilities in the Tower Systems POS software make selling easy in a range of specialty retailers including pet stores, garden centres, jewellers, whole foods stores and confectionery stores. Helping retailers sell by weight helps them drive fast and accurate selling. It can also offer retailers greater flexibility in pricing structure. All of which helps small and independent retailers to compete more successfully and effectively.
The terrific LollyBomb store in the heart of Adelaide is a good example of a smart retailer leveraging the scale facilities in the software to help run a more successful business.
Selling by weight is easy thanks to the facilities in the software that were developed by Tower Systems in close consultation with retailers.
This is another niche service handled by the Tower software, making it a genuinely beneficial tool for niche and special interest small business retailers.
Integrations are important to small business retailers. They can often set POS software companies apart in that not all integrations are approved. take Xero, for example – they do not approve all POS software requests for integration. They have a structured process to follow. This is why being approved is a badge of honour and an important differentiator.